My oldest child turned s six this past Tuesday! Her spa-themed birthday party was this past weekend and she wanted a Hello Kitty cake. Always wanting to be creative, I seized this opportunity to have a good excuse to make one… and with specialty cakes running $25+ the price of making my own cake is even more appealing.
Before we get started, I want to point out a few things.
I am not a skilled cake-maker. I make cakes about 1-2 times a year because it's my one of my daughter's birthdays. So if I can do it, YOU can do it.
I am not a photographer, but I got a new camera to play one in real life (one day hopefully).  As you will see from my pictures I still have some learning to do.
From this you should at least see that even imperfect, homemade cakes are charming and the kids will still love it. You can be proud of it and you don't have to spend an outrageous price for some basic ingredients. This somehow makes the cake taste even sweeter.
We are redoing our kitchen soon… too bad it wasn't before these pictures were taken. 🙂
I tend to overuse commas and ellipses…
 Step #1: Supplies
I splurge on the Pillsbury Funfetti cake mix. These past few years this is the one that seems to get the most kudos for taste. You will also need the other basics: eggs, oil, measuring cup and, for me, coffee.
So for this cake, I decided to do an even bigger splurge and buy a Hello Kitty mold. I've seen these around and have always opted to cutting my own shapes to save money. This time I wanted to see if it would really help and be worth the $14 investment. Otherwise, you can use a 9×13 pan.
The one MUST-HAVE tool that I highly recommend is this:
A butter knife will never cut it for me anymore (no pun intended). This is the best investment I've made for cakes.
The second-best investment is the decorating bag. Although you can get away with using a plastic bag, the edging comes out much nicer with this (as I learned the hard way). And if you plan on making cakes more than a few times, you really should have this.
And if you have one, an assistant can also be very helpful (or not, if they just want to eat the batter).
Step #2: Get to Mixing and Baking
After you and your assistant have mixed the ingredients (following the instructions from the box), we sprayed the pan with PAM and poured the batter in and baked.
Here is the Before and After. Oh la la.
And then it hit me. I really didn't need the mold because I don't plan to do the "star" texture. I'm not nearly OCD enough or patient enough to do this type of texture. You know the one I am talking about? It looks like this: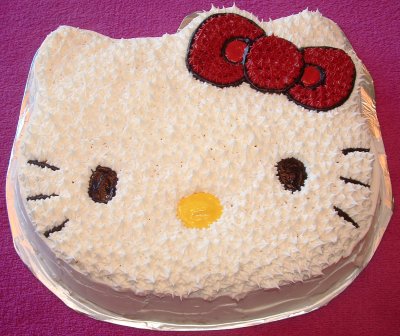 The outline is nice to have, but the face texture is not really necessary because I'll be just spreading the icing, as you will see.
So here it is flipped out on the plate.
Step #3: Icing
This is an important trick I learned at H's 3rd birthday party when she asked for a moon and stars cake. Put a thin first layer of frosting on the cake, like so… (and all Hello Kitty face details disappear).
Then put the cake in the fridge to let that icing set. It will harden and create a layer between the cake and your next layer of frosting. This will prevent crumbs from getting mixed into the icing.
While I am waiting for that, I mix the colors into the icing. For this Hello Kitty cake, I'll need black, red and yellow. After placing some icing into separate bowls, I add a few drops of food coloring. The black just takes a couple of drops. The red takes many more drops to get a nice, rich red.
For H's first birthday I made a ladybug cake and was determined to make the red, blood red. The outcome was really thin icing that was too liquid-like to spread on. I ended up throwing it in the fridge to firm it up, but it only helped a little. So, now I just opt for pink. This is a homemade cake, after all. Who's being picky?
I leave it in there for about 20-30 minutes. (Note: you can make that layer a little thicker than I did. Keep in mind that I am doing this about 1.5 hours before the party, so I was rushing!).
Take it out of the fridge and start the REAL DEAL icing.This is where that icing-spreader thing really comes in handy. (Yes, that is the actual name of it… in my head).
I never understood why there was always so much icing on cakes, until I started making them. You really can't get a nice solid look without piling it on. If it were up to me I would just have it with the initial layer, but I don't have a sweet tooth either.
After spreading the white icing on, I run my "icing-spreader thing" under running water and go back over the icing. This will smooth it out the icing. It's fun to watch happen.
I then spread the red/pink on where the bow was and used the piping bag for the black eyes. I had such a small amount of yellow, that after I mixed it, I placed it in a ziplock bag. I pushed it all towards the corner and cut the tip. This creates something like the piping bag, but not quite as versatile. (By the way, this is also a great way to fill in deviled eggs!)
I just used a regular tip for the piping for her eyes and whiskers and blended it in. I don't have pics of me doing this part because I was doing it and couldn't balance the camera at the same time.
Here is the final product. I ended up using a ziplock bag to do the piping around the bottom because i forgot about that step before I put all the black in my piping bag. So that didn't turn out so pretty, either.
Step 4: Be Happy with What You Made
This is probably the hardest step for me. I can go kind of nuts and start trying to fix everything that I see wrong with it.
In the end: not perfect, not professional, but made 100% with love and fun and cost me less than $5. Oh wait! Except for the $14 mold. Was it worth it? I probably won't ever buy a mold again for any character. I think I can cut the cake. At the time, it was worth it because it really came down to the wire and cutting the shape out would of set me back.
Coincidentally, my youngest daughter said she wanted the same cake for her birthday in a few weeks. So I'll get at least 2 uses out of it and that makes me feel better about the purchase.  Hec, maybe I'll make a Hello Kitty frittata.
Here it is pictured with the party table. I think it turned out and, more-importantly, my girl LOVED it. It made me happy that I could make something for her in this store-bought world.